Don't Just "Put Up With" Your Pain!
Stop Suffering & Heal Yourself Naturally at Natural Approach Wellness Center!
Tired of Paying for 3-Minute Appointments With Doctors?
Get Answers to your questions at your first visit from a dedicated staff that listens!
Stop Wasting Time with Tests & Handfuls of Drugs that Don't Seem to Work!
Pin-point the root cause of your health issue and get your customized treatment plan.
Confused by the Lack of Information From Your Doctor?
Leave our office knowing EXACTLY what to do, when to do it, and how you should feel every step of the way!
Pin-Point Your Pain, Develop a Plan, & Heal Naturally
Listen to Our Client Success Stories!
Get Rewarded For Spreading the Word!
We LOVE referrals! Refer a patient to us and you get a FREE Stress-Relief acupuncture treatment!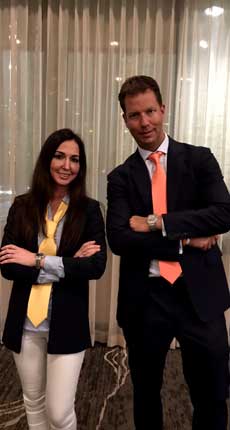 JT Foxx
World's #1 Wealth and Business Coach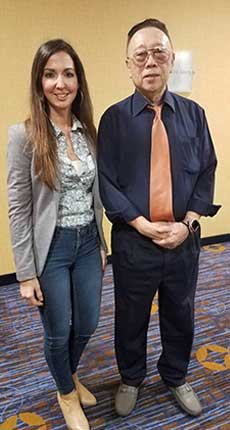 Dr. Jimmy Chang
My mentor and
Master of pulse
diagnosis & herbal
prescriptions with
over 40 years of
experience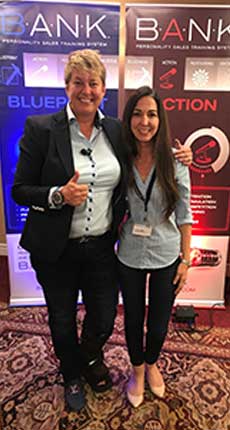 Cheri Tree
Founder & CEO of
Bankcode and author
and creator of B.A.N.K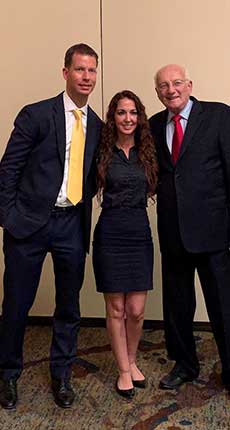 JT Foxx &  George Ross
Mr. Ross is best known
for his role as Donald Trump's
advisor on the show,
"The Apprenctice"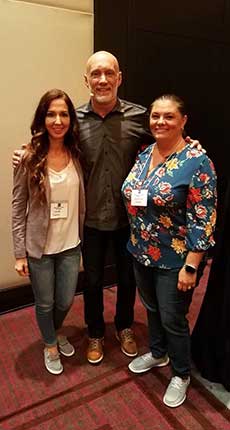 Douglas Scott Nelson
Author of  "Catch Fire"
with Dr. Laura
Vasallo & Dee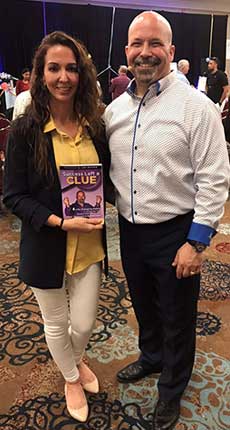 Robert Riopel
Author of  "Success
left a clue"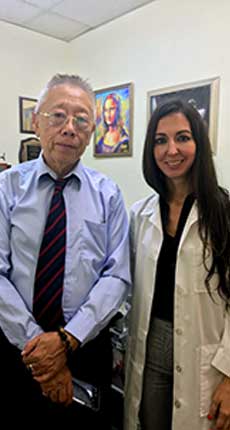 Dr. Jimmy Chang
Dr. Laura Interning
in California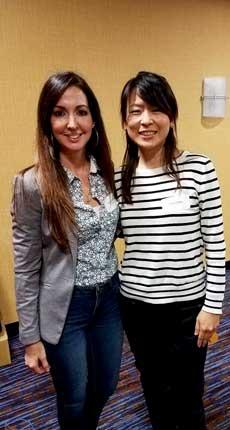 Dr.  Tina Chen
President of Evergreen
Herbal Company
(Dr. Laura Learning
Pulse Diagnosis
and Herbology)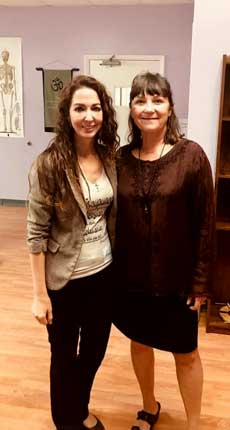 Martha Lucas, Ph.D, L.AC
Learning Cosmetic
Acupuncture from the
leading expert and
developer of the
Mei Zen system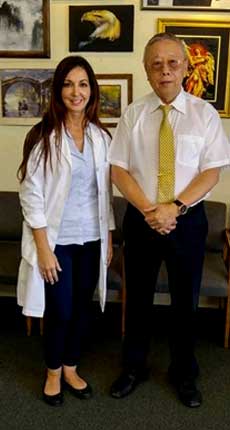 Dr. Jimmy Chang
More Interning!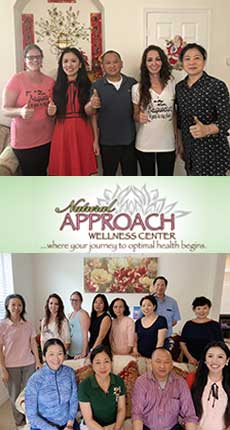 Training for Acid-Base DDS
(Direct Detoxification
System) which received
the international invention
Patent Gold Award &
US FDA approval/European
CE certification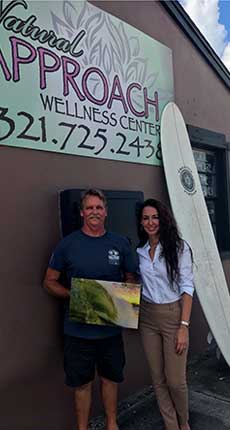 Natural Approach Patient
Showing his surfing
award after preventing
knee surgery with the
help of acupuncture
and herbs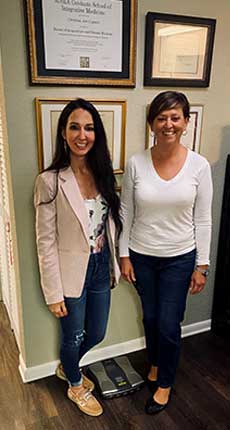 Dr. Christina Captain
Learning acupuncture
point injection
"Years of doctors ignoring, misdiagnosing, and just basically failing……. Dr. Laura has helped me see the light!
If you are remotely skeptical like I was, you need to put it aside and just give it a month and see for yourself.  She and her staff are incredible.
I can't thank her enough for giving me my live back"
– Luis Govantes
"I  just had my first acupuncture appointment and it was amazing!! Without any prior knowledge of my condition she pinpointed exactly what is wrong with me through her initial examination. 
I was blown away by how accurate she was! If you are considering acupuncture go see Dr. Laura at Natural Approach Wellness Center. She is well educated in her field, attentive, understanding and really listens to you.  I am so excited for my treatment with her!"
– Brandy Bowman
"I want to thank Dr. Laura and the Natural Approach team. They kept my body, mind and soul in condition to capture a third place finish in Legends Longboard ESA Eastern Championship.
I was contemplating knee surgery and experiencing a downward spiral in my competition results before being treated at Natural Approach Wellness Center.
Again thank you Dr. Laura and the Natural Approach team!"
– Jeff Majaika
"Learn from my experience, try acupuncture first! Acupuncture was the last resort for my back pain and in the end was the only thing that worked.
 This is a relaxing place, Dr. is very knowledgeable and understanding.
 Highly recommended."
– Ancuta Rader
"I absolutely love Dr. Laura and her staff!! Last year, during the chaos just before the pandemic hit, I was unwell and not getting very much help with traditional medicine. Bouncing around from specialist to specialist, being told various things with no conclusion or resolution. I started thinking of natural ways to heal.. a Natural Approach if you will, and voila, I made an appointment here with Dr. Laura! She not only helped me heal but gave me so much strength to pursue my gut instinct of how to heal naturally and using intervention when necessary! I am feeling TONS better every day, all thanks to her!!"
– Chelsea Blair
"Dr. Laura is absolutely amazing! Visiting her was one of the best decisions I've ever made. While I had no real goal in getting acupuncture, it has helped me tremendously! Back pain almost non-existent, I'm actually getting quality sleep at night which hasn't happened since 2017 and I'm able to focus so much better and turning in much better work products. I'm
Not from Melbourne but I will be back to see her. And her staff is just as pleasant as she is! Thank you, Dr. Laura!"
– Certified Patient
"Dr. Vasallo successfully treated distracting and persistent pain in my triceps. I was skeptical but after 3 weeks of acupuncture and herbal teas, the discomfort went away. I'm very grateful to her for actually listening to my body and offering help where specialists had failed me."
– Melissa Kastanias
Get $5 Off Your Next Visit
LIKE our Facebook page and share your positive experience under REVIEWS. (Limit 1 coupon per customer)
Your Journey
Towards Optimal Health Begins With That First Step...Schedule Your Appointment TODAY!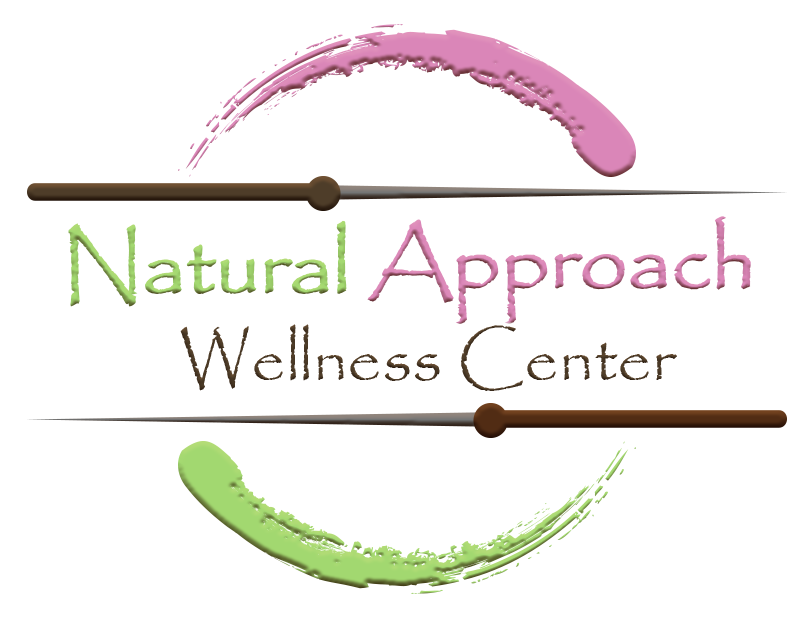 Our Hours
Mon. & Wed. 9:30-6 PM
Tues. & Thurs. 3:30-6 PM
Fri. (Massages by Appointment)
Sat.  & Sun. Closed (Massages by Appointment)
Where to Find Us
Natural Approach Wellness Center
2002 Pennwood Drive
Melbourne, Florida 32901
Regular Special Events
One Friday a Month Open for
Stress Relief Happy Hour Events
License #MM15764 & #MA20491